AKA Microneedling
Because we're firm believers that beauty is more than skin deep, these services are specifically designed to help women and men feel pretty or handsome and more confident when they need it most.
Our team of Certified Prettyology Micropigmentation Specialists performs over 5,000 PMU procedures per year.
Beauty is
More than Skin Deep
PERFECT FOR
Scars
Acne scars
Burn scars
Hypopigmented skin (patches of skin that are abnormally lighter than the surrounding skin)
Improving the look of the areola area after mastectomy reconstruction
Contraindications
Unfortunately we are not able to lighten hyperpigmented skin (patches of skin which are abnormally darker than the surrounding skin) due to medical concerns. We recommend seeing a medical esthetician or dermatologist.
Details
Services are priced per hour and do not include a free follow up appointment.
Though our techniques can reduce the appearance of your scar, it's important to understand that scars are long-lasting and no scar will ever be completely invisible.
Every scar is different: body location, size, shape, color, appearance of depth, and more. Some scars require only a single treatment, others take multiple treatments.
Results are cumulative and may take four to six weeks to fully develop.
To learn more about what we can and can't do to help reduce the appearance of your scar than we can present on this page, see our detailed microneedling and scar camouflage article.
Have questions that aren't answered here? You can see our FAQs, search our blog, or ask us a question.
Medical Tattooing
Services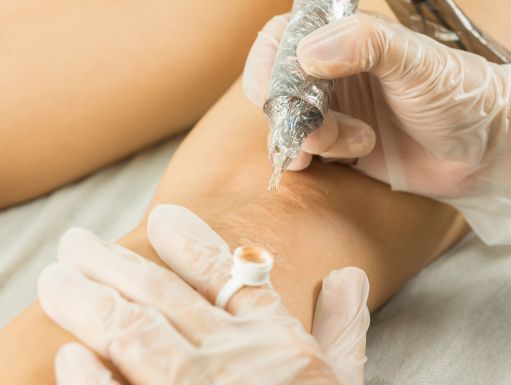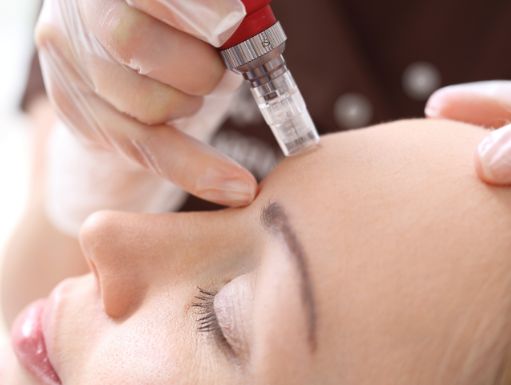 Services
NOTE: Please inquire for Julie's prices, which are not reflected in the pricing below.
CONSULTATION 30 minutes. $50
(applied towards cost of procedure within 3 months)
Consultations are mandatory before any first time microblading / permanent makeup procedure, scar camouflage, and tattoo removal procedure. This is true even (especially) if you've had it done somewhere else.
We assess your skin type and condition, relevant medical background, lifestyle, goals, desires, and any upcoming special events that affect your scheduling. We'll then discuss the various treatment methods available, the pros and cons of each as they apply to you personally, and any preparation you'll want to do in order to maximize your results.
All first time Micropigmentation clients are required to pay a 50% service deposit when scheduling their initial appointment. Deposits ARE refundable if cancellation notice is given 48 hours in advance. Prices are subject to change.
SCAR CAMOUFLAGE. From $350/hour

This procedure uses pigments in a range of tones to match the skin.
Unfortunately, we are unable to camouflage birthmarks or other hyperpigmented skin (patches of skin which are abnormally darker than the surrounding skin) due to medical concerns.
SCALP MICROPIGMENTATION (SMP) $400/hour (per session)
Yes! We can help with your thinning hair! Whether it's a thinning hairline, complete male-pattern baldness – or anything in between. Our expert artists will use pixelation or hairstrokes to make your hairline look full again.
3D AREOLA RESTORATION
Breast cancer is unfortunately very real in many people's lives. Our Prettyologists are honored to help women (and men) who have undergone uni- or bi-lateral mastectomies through their journey by creating incredibly realistic 3-D areolas. The results will impress you! We use tattoo ink designed specifically for this procedure, giving you results that will last for several years to come.
UNILATERAL
Includes free follow-up... $600-$1000
UNILATERAL TOUCH-UP
Within 36 months... $275-$800
BILATERAL
Includes free follow-up... $850-$1300
BILATERAL TOUCH-UP
Within 36 months... $425-$900
TATTOO REMOVAL
We use an advanced non-invasive magnetic technique to effectively remove pigments from the skin without inflammation or scarring. Currently we are only able to remove tattoos from the facial area (permanent makeup).
TATTOO REMOOV 88
PMU on the face only. 60 minutes... From $350/session
SALINE REMOVAL
Very small areas only. 30 minutes... From $200/session
PROCELL® MICROCHANNELING/Microneedling
Stimulates collagen and elastin production to improve the appearance of: fine line and wrinkles; all scars (including acne scars), stretch marks; sun-damage and hyperpigmentation; skintone – texture and firming.
$375/1 hr. session or package of 3 for $900
$225/30 min. session or package of 3 for $600